SERVPRO of Hurst-Euless-Bedford outlines the steps to professional mold removal
11/17/2022 (Permalink)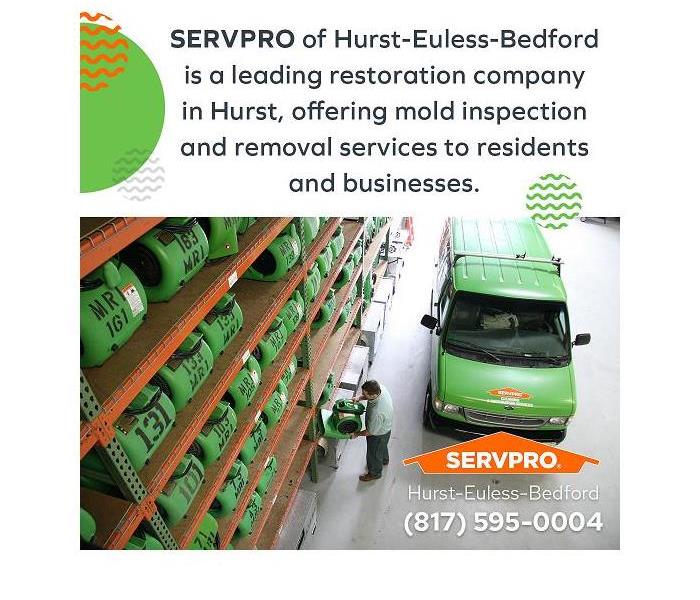 Blog Summary: SERVPRO® of Hurst-Euless-Bedford outlines the steps to properly remove mold from your property.
Discovering mold in your home can be scary, especially if it's black mold. Fortunately, mold can be safely removed without endangering yourself or others on the property. However, it's vital to deal with it swiftly.
The team at SERVPRO of Hurst-Euless-Bedford, a leading mold removal company in Hurst, TX, has outlined the following steps to safely remove mold from your home:
1. Mold inspection
Once you notice any signs of mold growth, like a damp, musty odor in hidden areas or seeing mold in your bathroom or other areas, the next step should be to conduct a proper mold inspection and testing procedure.
The essence of the inspection is to find other areas in the property with mold, help you identify the type of mold you have, and determine the cause of the mold growth.
Mold inspection is best done by a certified expert. A mold inspector knows the specific areas to check for mold development. They can also quickly ascertain the type of mold present in a property.
Additionally, most reputable mold inspection companies will take out part of the mold and send it to a lab for testing.
2. Identify and fix the cause of the mold growth
Mold doesn't just grow anywhere. It typically grows in places with a lot of moisture, like leaks in your pipes, roof, windows, and attic, and areas that have experienced water damage like flooding.
It's essential to first find out the cause of the mold growth and fix it, so it doesn't develop again. A professional mold inspector will typically identify the cause of the mold and include it in their report.
3. Protect yourself
It's essential to safeguard yourself from airborne spores while cleaning moldy surfaces. The EPA advises wearing an N-95 respirator mask and gloves extending to the forearm's center.
They also advise using gloves made of "natural rubber, neoprene, nitrile, polyurethane, or PVC" if you use bleach or a potent cleaning solution.
4. Removing the mold
There are several ways to get rid of mold on your property if you want to go the DIY route.
Here are some popular methods to remove mold:
White Distilled Vinegar: Vinegar is the finest non-chemical way to eradicate mold permanently. Up to 82% of mold species can be eliminated using white distilled vinegar. Pour undiluted vinegar into a spray bottle and spray it on the affected areas. Allow it to sit for some time, and use a brush to clean off the mold.
Detergent: Mold on tiles, baseboards, wall framing, and similar surfaces can be washed off with detergent. Put detergent in warm or cold water and scrub the impacted area with a rag. Wash until all signs of the mold are gone, then dry the area and wash the rag.
Baking Soda: Add warm water to a spray bottle to make baking soda mold remover. Shake well after adding 1/4 tsp of baking soda to the bottle. Spray the mold development and then clean it with a scouring pad or brush. Rinse the area, then let it air dry. Finally, lightly sprinkle the area with the baking soda mixture once more to stop future mold growth.
Hire an experienced mold removal specialist to do the job
Hiring a mold removal company like SERVPRO of Hurst-Euless-Bedford is the way forward if you have a severe mold issue in your property and want it gone. These experts can handle everything from mold inspection and testing to removal.
They have the expertise and advanced equipment to identify mold, deal with the underlying causes, and remove it from your property. Oftentimes, when property owners do mold removal on their own, the issue resurfaces after a few weeks/months. Experts, however, can remove the mold from your property and ensure it never returns.
About SERVPRO of Hurst-Euless-Bedford
SERVPRO of Hurst-Euless-Bedford is a leading restoration company in Hurst, offering services like mold inspection/removal, water damage restoration, and fire damage restoration to residents and businesses.
They have a team of trained specialists who can come to your property to inspect and help you solve your mold problem.
Call SERVPRO of Hurst-Euless-Bedford at (817) 595-0004 to get a free quote.