SERVPRO: Choose a property restoration company that is a part of a renowned franchise
11/29/2021 (Permalink)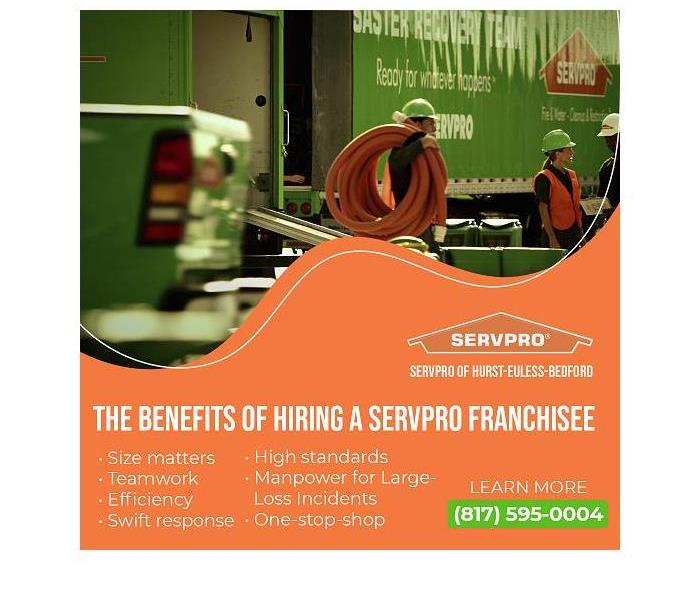 Blog Summary: The SERVPRO franchisee at Hurst-Euless-Bedford explains how it is dedicated to excellence while serving the damage restoration needs of residents as well as business owners.
Why hire a franchisee like SERVPRO at Hurst-Euless-Bedford?
It is a very relevant question. Why should any homeowner or business owner in Hurst-Euless-Bedford hire SERVPRO? The team answers this very pertinent question with an array of benefits that comes with an association with SERVPRO.
Before diving into the benefits, here's the genesis story of SERVPRO.
The genesis and rise of SERVPRO
In 1967, Ted and Doris Isaacson founded SERVPRO as a painting business in California. The Isaacsons' talent, hard work, and vision soon led to the expansion of the company into a franchisor of property damage restoration and cleaning specialists. Their first franchise was sold in 1969. The franchise strategically moved to Gallatin, Tennessee, placing itself within 600 miles of 50% of the U.S. population.
Thereafter, SERVPRO grew exponentially with 1000 franchisees across the country by the year 2000. Currently, the number of franchisees is almost double. What makes SERVPRO stands apart from its competitors is its proud history, a clear vision for the future, a team of dedicated professionals, and a commitment to customer satisfaction.
The constant upgrade of skills and its IICRC certification, the latest equipment, cutting-edge technologies, advanced cleaning techniques, and the combined knowledge, experience, and resources of over 1700 franchises makes SERVPRO a holistic restoration service.
The benefits of hiring a SERVPRO franchisee
The SERVPRO culture is to deliver excellence in its restoration services and returning a damaged property to its preloss condition, swiftly and efficiently. Here are the unmatched benefits of working with a SERVPRO franchisee:
Size matters: SERVPRO of Hurst-Euless-Bedford has over 1,800 partners around the United States and Canada. In times of emergencies, the size of the restoration company a property owner hires makes a difference. Due to its presence across the country, SERVPRO is capable of offering superior service compared to non-franchised competitors.
Teamwork: With the vast number of franchises across the country, SERVPRO has access to an immense pool of knowledge, experience, and resources. The collective knowledge, skills, and experience as well as the problem-solving capabilities of all the SERVPRO franchisees put together are unmatched.
Efficiency: Irrespective of the challenge, a SERVPRO franchisee has the capacity to resolve any possible problem. With access to nearly two thousand franchisees and their brilliant teams, nothing is impossible for SERVPRO. These franchisees' experience base itself multiplies the efficiency levels, reduces errors and waste, and ensures absolute customer satisfaction. The SERVPRO team functions smoothly - crews arrive on the scene, communicate with the command center, roll out their equipment, deploy to the assigned areas, and begin the process of restoring the property.
Swift response: Disasters such as flash floods and earthquakes can occur anywhere, anytime. With the vast network of franchisees across the country, SERVPRO can ensure that its clients are assisted swiftly and efficiently, no matter where they are. SERVPRO franchisees can reach out to their counterparts and deploy a small team of responders in the area the client is located in. A disaster situation can arise unexpectedly, therefore the response time must be minimal.
High standards: Owing to the continuity of protocol, cleaning standards, process, performance, safety procedures, and quality across all SERVPRO franchisees, the response by the teams is unified, well-coordinated, and highly efficient. The constant up-gradation of skills and certifications ensures high standards and a synchronized response.
Large-Loss Incidents: Addressing a disaster that impacts an entire city or a large area requires massive manpower. With the SERVPRO franchisees, dozens or hundreds of crews along with specialized equipment can be mobilized for a rapid, efficient, and well-managed response. Logistically, competitors cannot match SERVPRO's speed and scope when events like tsunamis , hurricanes, or forest fires occur.
One-stop-shop: It makes sense to work with a company that can take care of all the restoration needs. Industries and other companies with multiple locations in the region can trust their large-scale needs to one franchise instead of multiple associations with various companies. This also proves to be economical and efficient for any organization in the long run.
Create a Ready Plan now with SERVPRO of Hurst-Euless-Bedford before disaster strikes. With its 24x7 emergency response, vast network, mammoth experience, vast skilled team, and IICRC certification, any homeowner or business owner would be in safe hands.
Why SERVPRO?
SERVPRO uses state-of-the-art equipment to bring the damaged property back to its original state. SERVPRO of Hurst-Euless-Bedford is always updating its fleet and equipment so clients in Hurst, Euless, Bedford, or anywhere else can quickly access the services.
With over 1,700 US and Canadian Franchise locations, SERVPRO is strategically positioned to respond faster to an emergency of any magnitude.
The SERVPRO staff is highly trained in property damage restoration. They receive initial in-house training and constant skill-up-gradation at the corporate training facility and also acquire the regular IICRC-industry certification.
For cleaning and restoration services, call SERVPRO® of Hurst-Euless-Bedford today at (817) 595-0004 or e-mail at office@SERVPROheb.com