SERVPRO reveals the points of origins of fires at homes and measures to prevent these fires
6/17/2021 (Permalink)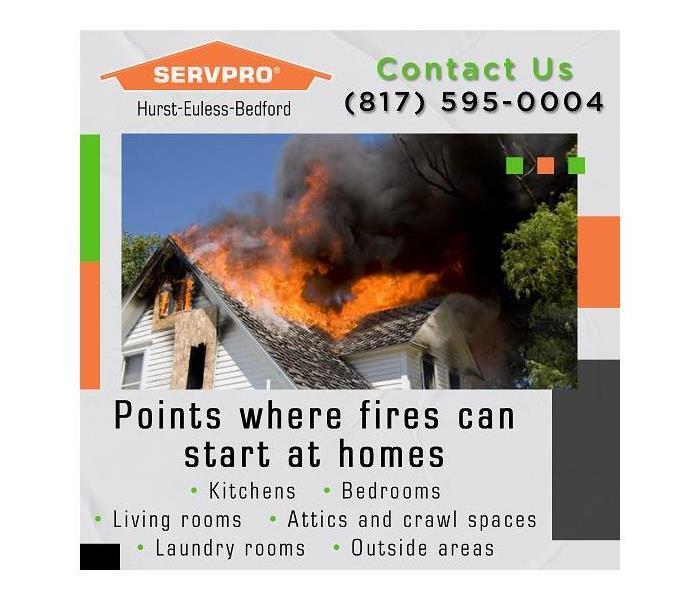 Blog summary: This SERVPRO article shares with homeowners the various fire risks at homes and precautions to take.
Fires at homes and their points of origin
According to statistics from the National Fire Protection Association (NFPA), there are more than 350,000 home fires each year in the U.S., leading to more than 2,500 deaths. Statistically, 27% of all the annual fires reported in the U.S. happen at homes, which not only cause massive fire damage but also, tragically, lead to the majority of fire-related deaths.
SERVPRO shares the points where fires can start at homes and how homeowners can prevent them.
As in commercial spaces, kitchens are one of the biggest origin points of fires at homes. Unattended cooking is the leading cause of kitchen fires and fire-related injuries.
There are several fire safety rules homeowners can follow when working in kitchens:
Never leave a burning gas unattended, especially when working with high heat activities like frying, boiling, or broiling.
Move combustible items away from stoves.
Switch off the stove and all appliances after cooking or when leaving the kitchen.
Designate a safe spot to place dish towels or hot pads, away from hot surfaces.
Wear a securely fastened apron over billowy shirts or bottoms to prevent getting burnt.
Keep a Class B fire extinguisher or baking soda handy in case of fire and do not use water as it will spread oil or grease and feed the flames.
Around 15% of electrical fires usually originate in bedrooms. These fires can prove fatal as they usually happen during the night hours. The usual causes are faulty or overloaded wiring, malfunctioning lighting, cords, space heaters, or electric blankets. Contents such as beddings, draperies, and carpeting in the bedroom easily catch fire.
Below are some tips for preventing fires in the bedroom:
Do not neglect any loose or worn-out wall outlets.
Replace extension cords, chargers, lighting cords, or other power cords as soon they show signs of wear and tear.
Rewire favorite lighting fixtures like lamps if the cord is worn out.
Don't overload outlets.
Unplug devices when not in use.
Educate children on how fire ignites and spreads. Statistically, 40% of structure fires accidentally started by children originate in the bedroom.
Fireplaces, chimneys, wood-burning stoves, and space heaters are the usual suspects of fires in the living room.
Homeowners can practice a few safety precautions to prevent a fire in living rooms:
Get the chimney cleaned professionally.
Keep a distance between the combustibles, such as draperies and upholstered furniture, and the heat source.
Install a fireplace with a screen to prevent embers from escaping.
Completely douse a fire before leaving the house or the room.
Use the recommended fuel for the heat source.
Educate kids about the dangers of fire and the distance they should maintain from fireplaces for their safety.
Install smoke detectors.
It is truly out of sight, out of mind when it comes to the inaccessible attics and crawl spaces. Surprisingly 13% of electrical fires start in these isolated spaces due to electrical failure or malfunction.
The risk of these fires is higher in older homes, where electrical work may not be up to the standard quality or may have been a result of a DIY project. It is imperative to hire a professional electrician to check these areas for issues that, if neglected, can cause serious fire damage.
Dryers have proven to be the biggest cause of fire in the laundry rooms, where 4% of residential fires begin.
Preventing laundry fires is usually simple:
Don't overload the washer or dryer, allowing room for laundry to tumble.
Prevent buildup by cleaning the lint screen and drum between loads.
Clean the dryer exhaust vent and ducts annually.
Use flexible metal venting material.
Ensure the right voltage for the appliance.
Come summer, the grill, smoker, fire pit, and even dry vegetation become the catalyst for outdoor fires. These outdoor fires are responsible for 4% of residential fires but can be prevented by following a few rules:
Keep grills or smokers about 10 feet away from the house structures (including the eaves), deck railings, trailers, vehicles, or combustible materials.
Clean the grill or smoker after every use to prevent fuel buildup.
Keep a fire extinguisher handy when grilling.
Keep a hose or bucket of water near fire pits, and clear the area of vegetation, fuel, or other combustibles.
Make sure fires are completely extinguished before calling it a day.
Avoid friction of any sort across dry vegetation that could cause a spark.
Besides the points of origin above, there are certain fire hazards that homeowners must watch out for:
Candles
Candles are a brilliant way to adorn a special occasion or create a beautiful ambiance. They can, however, become a major fire hazard if left unattended. According to the NFPA, candles caused an estimated average of just over 7,600 fires between 2014 and 2018. New Year's Day, Christmas, and New Year's Eve are prime time for candle-related fires.
Candle lighting must be accompanied by certain precautions:
Matches and lighters must be kept under lock and key, away from children.
Always extinguish candles before leaving the room.
Keep candle flames at least 12 inches from any combustible materials.
Consider other lighting options such as battery-powered flameless luminaries that are very realistic.
Chemicals
Chemical fires are more common in industrial or commercial areas, but even a relatively small number of chemical fires in residences can prove to be very deadly as they are unexpected.
There are two ways chemical fires are ignited. One is when volatile vapors from gasoline and other petroleum liquids reach a flash-point temperature or when the fumes contact a source of an open flame. Another way is spontaneous combustion when chemicals combine with oxygen in the air to produce enough heat to reach a flashpoint.
Here are few measures homeowners can take to prevent these fires:
Use an approved container to store all flammable liquids.
Fill only 95 percent of the container to allow the vapors to expand without rupturing the container.
Tightly seal containers to prevent gas vapors from escaping.
Store the container at least 50 feet away from pilot lights and ignition sources, such as a water heater, space heater, or furnace.
Keep the containers in a detached garage or shed, away from living spaces.
Do not store oil-soaked or chemical-soaked rags after use as they can spontaneously combust under hot conditions in combination with oxygen.
Christmas trees
A holiday tradition, Christmas trees come with certain fire risks. Since real evergreen trees dry out over time, they pose a danger of flash fire that can engulf a room in a matter of seconds. Artificial trees made with vinyl or plastic needles are safer in this regard, but an electrical fire is still a risk.
Here are a few precautions to prevent Christmas tree fires:
Unplug tree lights on the Christmas tree when leaving the house or when sleeping.
Regularly check the natural trees to ensure they are not too dry.
Ensure a full water reservoir to prevent the tree from becoming tinder-dry.
Older Christmas tree lights that use incandescent bulbs generate a lot of heat and can be replaced by lights using LED (light-emitting diode) bulbs that are safer.
Faulty light strings must be changed or repaired.
Being aware of the points of origin and other fire hazards in a house is the first step towards fire safety. But in case of fire damage, homeowners can contact fire damage restoration companies like SERVPRO to help restore a house to its original glory.
Why SERVPRO?
SERVPRO uses state-of-the-art equipment to bring the damaged property back to its original state. SERVPRO of Hurst-Euless-Bedford is always updating its fleet and equipment so clients in Hurst, Euless, Bedford, or anywhere else can quickly access the services.
With over 1,700 US and Canadian Franchise locations, SERVPRO is strategically positioned to respond faster to an emergency of any magnitude.
The SERVPRO staff is highly trained in property damage restoration. They receive initial in-house training and constant skill up-gradation at the corporate training facility and also acquire the regular IICRC-industry certification.
For fire damage restoration services, call SERVPRO® of Hurst-Euless-Bedford today at (817) 595-0004 or e-mail at office@SERVPROheb.com