SERVPRO suggests precautions that homeowners can take to prevent basement flooding
8/25/2021 (Permalink)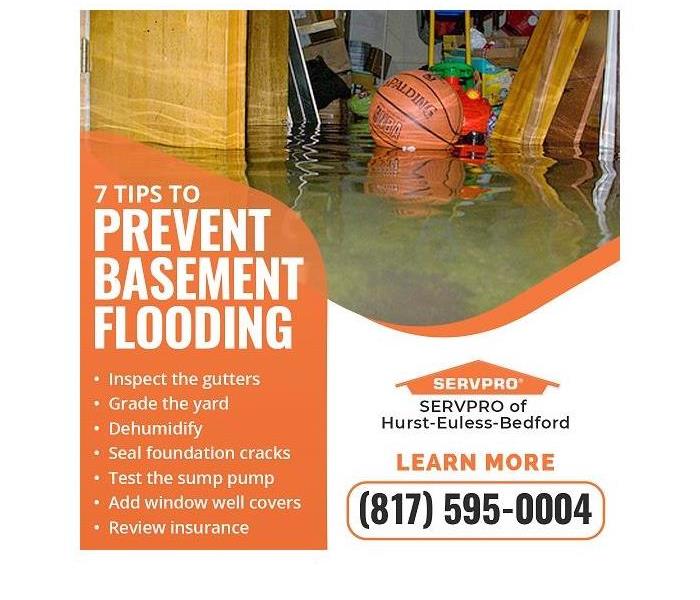 Blog summary: SERVPRO explains several steps homeowners can take to protect their basement from flooding and water damage.
7 tips to prevent basement flooding
A flooded basement entails massive expenses for water mitigation and restoration services. The best practice is to prevent basement flooding by taking proactive measures and containing the extent of the water damage. SERVPRO shares important tips that can help prevent basement flooding.
Homeowners must check the gutters once in spring and in autumn for natural debris such as twigs and leaves. A blocked gutter leads to the pooling of water on the siding and perimeter of the house when rains occur. This water then enters the basement through cracks and faults in the foundation.
The downspout must direct the water at least 6 to 12 feet away from the home. The water should drain downwards and away from the home foundations.
Installing metal downspout extensions is recommended as they do not leak and are more durable than the plastic ones.
If the yard has space for add-on extensions, installing underground PVC drain pipes can direct water to the front or back yards. Ensure the pipes do not flood the neighbors' basements.
Grading the lawn to slope away from the house or installing french drains can ensure that the water doesn't leak into the basement. This grading prevents the water from pooling around the house's perimeter. Homeowners can create a dry creek around the house and splice the lawn in a way that directs all excess water into the creek. Moreover, a porous pavement around the house can help absorb rainwater and thawing snow.
Moisture and humidity in a basement is inevitable due to its proximity to earth and the limited ventilation. Running a dehumidifier 24 hours a day, especially from April through October, can address this dampness. The dehumidifier will dry the condensation that appears on the foundation walls in summer.


Minor, vertical cracks are a normal occurrence in concrete foundations, especially in a new home. Hairline faults can be sealed with an epoxy sealant or polyurethane foam injection. However, persistent cracks must be taken seriously and should be addressed by a professional contractor.
Floods caused by storms can cause serious water damage to a home. It is crucial for homeowners to maintain their sump pump in case of a flooding situation. Moreover, power outages are common during and after storms. Therefore, a sump pump with a 120-volt backup battery and a check valve can be a blessing during this crisis. The pump should drain outside and far away from the home perimeter.
Below-grade basement windows without the protection of window well covers allow rain and natural debris to enter the basement. Clear, acrylic covers successfully keep the basement dry while allowing in sufficient light.
However, poorly installed window well covers, inadequate drainage, and incorrect window well size can defeat the purpose of a window well cover.
Most homeowners' insurance policies do not cover basement flooding. But flood insurance should be purchased separately from the National Flood Insurance Program, especially by homeowners who reside in high-risk flood areas. Review the insurance policy for coverage related to basement flooding.
Why SERVPRO?
SERVPRO uses state-of-the-art equipment to bring the damaged property back to its original state. SERVPRO of Hurst-Euless-Bedford is always updating its fleet and equipment so clients in Hurst, Euless, Bedford, or anywhere else can quickly access the services.
With over 1,700 US and Canadian Franchise locations, SERVPRO is strategically positioned to respond faster to an emergency of any magnitude.
The SERVPRO staff is highly trained in property damage restoration. They receive initial in-house training and constant skill-up-gradation at the corporate training facility and also acquire the regular IICRC-industry certification.
For water damage restoration services, call SERVPRO® of Hurst-Euless-Bedford today at (817) 595-0004 or e-mail at office@SERVPROheb.com