What are the preventative measures businesses can take in anticipation of winter storms?
12/21/2021 (Permalink)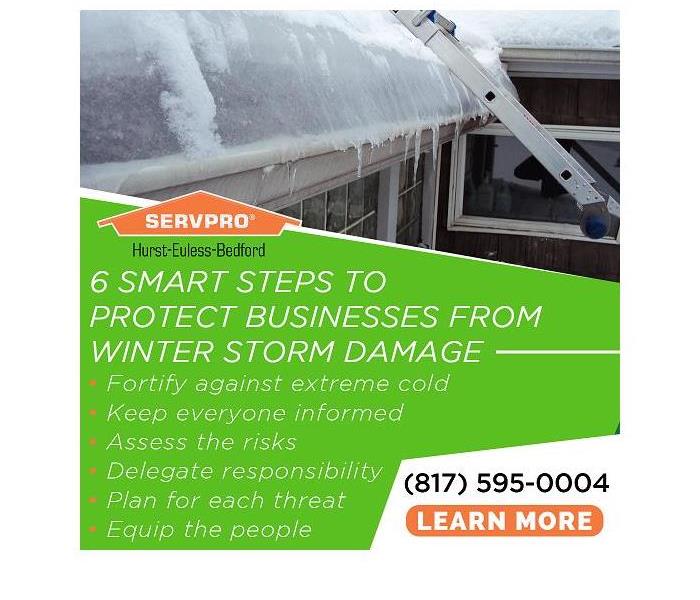 Blog summary: The SERVPRO blog gives insight into the 6 crucial steps that businesses can take to mitigate winter storm damage.
6 smart steps to protect businesses from winter storm damage
As winter storms arrive, they bring with them massive destruction to property and the economy. Businesses must take preventive measures to protect themselves in the event of a winter storm. SERVPRO of Hurst-Euless-Bedford, a flood damage restoration company, shares some tips below.
An average winter storm in the US can cost $3.9 billion per event. Although the characteristics of winter weather vary with location, every business faces varying threats as winter nears. A small business or a large-scale enterprise must have a winter weather preparedness to mitigate the impact of such incidents on employees, customers, and the bottom line.
With the NOAA forecasts for La Niña being very similar to the 2020-2021 season- the worst winter storm on record for parts of the South- all businesses including ones in warmer areas must take winter weather preparations seriously.
Here are six steps to protect a business all season long.
Step 1: Assess the risks
The various hazards businesses need to watch out for during cold weather are:
Icy roads and snow accumulation
structural stress and damage
Dangerous fire activity
Slip and fall injuries
Seasonal illnesses
Unsafe driving conditions
Road closures
Flight delays and cancellations
Local school delays and closures
Electrical fires and other hazards
Power/systems outages (both in the workplace and for employees working remotely)
Assessing the unique risks that a business faces is imperative for the preparation of a plan. Factors such as the location of employee residences, office location, type of industry, employees' work routine are some of the questions that help identify the threats that must be considered while making winter storm preparation plans. For instance, the increase in remote work presents its unique safety and preparedness challenges.
In the event of a storm forecast, the management must vigilantly check local news and follow travel safety recommendations to stay atop the regional threats.
Step 2: Delegate responsibility
Assigning the responsibility for the safety of employees as well as the business facility is important to ensure there is no confusion during the emergency event. All processes and responsible parties must be laid out for internal functions such as keeping employees informed of rapidly developing situations, ensuring all employees are accounted for and keeping facilities and equipment in safe operating condition.
Any organization is accountable for its employees' overall safety and well-being for which all necessary safety precautions must be taken. A project team of involved stakeholders must be assembled to clearly outline the roles and responsibilities of each function. A clear, documented plan of who will do what during a winter storm is important to help avoid confusion, finger-pointing, and missteps during the emergency.
Step 3: Plan for each threat
A specific action plan must be prepared for each winter storm threat that has been identified. From extreme cold, freezing rain, heavy snow to carbon monoxide poisoning, and blizzard warnings, a specific plan must be created. The people responsible for each storm threat management must be kept in the loop to eliminate ambiguity. These people including employees and managers must be trained to watch out for signs of hypothermia, frostbite, and other health threats.
A winter storm preparation checklist must be prepared with each step explained elaborately. Include preparation items like filling gas tanks, dripping faucets, and buying extra supplies. All these winter weather scenarios must be rehearsed in drills with key leaders and people managers while employees must be trained on the safety measures during the seasons.
Step 4: Fortify against extreme cold
A business facility must be fortified to withstand winter threats and hazards. Regular inspections and maintenance of offices, supplies, and equipment must be conducted. Carbon monoxide detectors, elevators to walkways, and evacuation routes must be checked. These regular inspections allow timely maintenance and a functional system.
Additionally, a power outage backup plan must be made. Winter storms often knock out power lines, which can hamper employee productivity, threaten employee safety, and impede vital business operations. From keeping a variety of portable chargers and battery banks and investing in a backup generator to a secure data backup solution and communication plan, an organization must take necessary preventative measures before a storm arrives.
Step 5: Equip the people
Employees must be prepared and provided with the equipment and resources they need to stay safe.
Share tips with employees on staying safe this winter, at home or work.
Review space heater and backup generator safety reminders.
Ensure employees that work outdoors have adequate protective clothing and know how to recognize the warning signs of frostbite and hypothermia.
Company vehicles should be serviced before the winter season to ensure the battery, tire tread, windshield wipers, and antifreeze levels are satisfactory.
Make sure that employees have access to emergency supplies at home, at work, and while driving.
Stock up on winter safety essentials at the facility such as flashlights and first-aid supplies.
Make a winter emergency vehicle kit for employees who travel for work.
Step 6: Keep everyone informed
Build a communication plan for how and who needs to be contacted when a winter storm hits. Have accurate contact information on hand for third parties such as clients, vendors, utility providers, the landlord, and insurance company. Identify how storm-related information will be disseminated and maintain contact with employees during winter weather events. Have a plan to inform clients and supplies about important information such as office closures or delayed openings. An emergency communication system—with features such as multichannel delivery, two-way messaging, and pre-built communication templates can help when there are power outages.
Why SERVPRO?
SERVPRO uses state-of-the-art equipment to bring the damaged property back to its original state. SERVPRO of Hurst-Euless-Bedford is always updating its fleet and equipment so clients in Hurst, Euless, Bedford, or anywhere else can quickly access the services.
With over 1,700 US and Canadian Franchise locations, SERVPRO is strategically positioned to respond faster to an emergency of any magnitude.
The SERVPRO staff is highly trained in property damage restoration. They receive initial in-house training and constant skill-up-gradation at the corporate training facility and also acquire the regular IICRC-industry certification.
For flood damage restoration services, call SERVPRO® of Hurst-Euless-Bedford today at (817) 595-0004 or e-mail at office@SERVPROheb.com