SERVPRO of Hurst-Euless-Bedford offers fast and reliable flood damage cleanup services in Euless, TX
7/26/2022 (Permalink)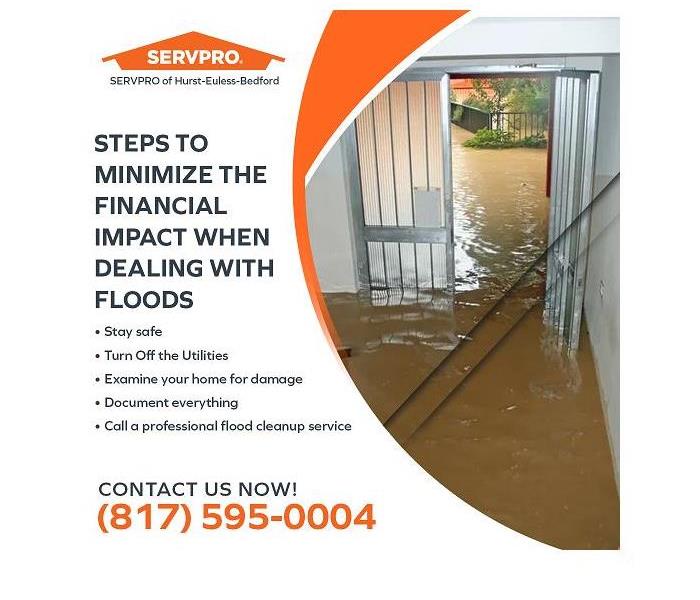 Blog Summary: Here are the key steps to take when dealing with flooding to mitigate the negative impacts.
As a homeowner, it is crucial to understand that floods and water damage can result in significant personal injury and property damage. When faced with a flooding disaster, you need an experienced flood damage cleanup professional who can quickly restore your home to its pre-disaster condition.
SERVPRO of Hurst-Euless-Bedford offers fast and reliable flood damage cleanup service to residents and businesses throughout Euless, TX, and surrounding areas.
However, calling a professional storm damage restoration specialist is one of the strings of steps you can take to recover from the flood damage. Professionals recommend taking the following steps when dealing with floods to minimize the financial impact.
Stay safe
The top priority is your safety. Although your first instinct may be to commence the cleanup immediately, you need to protect yourself from potential dangers that may develop from the situation. For example, the water may have been contaminated by sewage.
Some of the things you can do to stay safe include, but are not limited to shutting off gas and electricity, wearing rubber boots, and disinfecting your well. In addition, you should have your first aid kit handy to treat minor injuries that may have occurred when the disaster was ongoing.
Turn Off the Utilities
If there is a major disaster such as floods, it is advisable to turn off essential utilities such as water, gas, and electricity. In a severe flood, you could be at risk of electrical shock if you leave your electricity on. If necessary, you may need to call your power supplier to immediately disconnect your property from the electricity supply to safeguard you, your loved ones, and your home.
Examine your home for damage
After the flood has subsided and it is now safe to access your home, you need to carefully examine the property to have a better look at the level of damage. You need to pay special attention to areas such as walls, floors, windows, and your basement. This also includes examining personal belongings and items such as furniture.
You can bring in a professional to perform a post-disaster inspection to determine what area needs restoration and develop the best approach to get the restoration done in time and correctly.
Document everything
Some homeowners insurance or renter insurance policies cover natural disasters such as floods. Having damage resulting from a flood covered in your insurance policy is a great way to recover most, if not all, of the costs of property recovery.
If eligible, you can file a claim to your insurer. To back up your claims, you need to present convincing evidence showing affected items. Therefore, take photos of the damaged floor, roof, wall, furniture, and reports of the first responder.
Although your insurance company will appoint their adjuster, you can also hire an independent specialist to assess the damage and evaluate the cost of repair and replacement.
Call a professional flood cleanup service
If you experience a major flooding case, you may need to enlist the service of a professional. A professional can inspect the damage done by the flood, and then develop the right strategy to perform the necessary cleanup.
Work with the best flood damage cleanup company in Euless, TX
Dealing with flood cleanup without relevant experience and the right equipment can be frustrating, and there is no assurance that you will do it correctly. You can save yourself the headache that comes with flood cleanup by hiring an experienced flood cleanup specialist.
For fast and reliable flood damage cleanup service in Euless, TX, get in touch with SERVPRO of Hurst-Euless-Bedford. They have a team of highly qualified and experienced restoration technicians ready to get your home restoration done in a safe and timely manner.
To learn more about how SERVPRO of Hurst-Euless-Bedford can help you after a flood in Euless, TX, call Team Shaw at (817) 595-0004.