Call SERVPRO of Hurst-Euless-Bedford for emergency fire damage restoration services in Bedford
7/26/2022 (Permalink)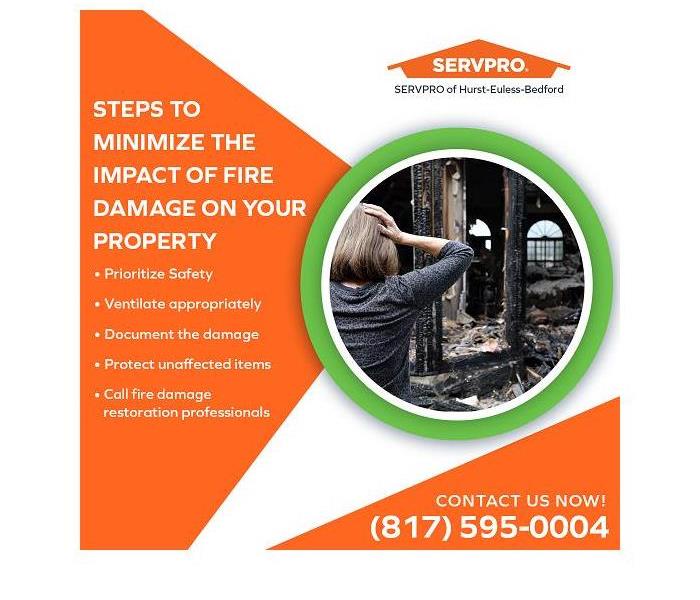 Blog Summary: The experienced fire damage restoration professionals at SERVPRO of Hurst-Euless-Bedford are dedicated to responding immediately to your Bedford home or business.
Summer is officially here. As the temperature in Bedford, TX rises and the frequency of rain begin to plunge, fire becomes a serious cause of concern. The dry climate is home to fire every year, and in some cases, those fires can wreak monumental havoc on homes, trees, and grasslands.
It is important to note that any amount of fire can be dangerous. Therefore, SERVPRO of Hurst-Euless-Bedford strongly advises that you should always prioritize safety when confronted with a fire accident in your home.
For fast and reliable fire damage restoration in Bedford, TX, and surrounding areas, look no further than SERVPRO of Hurst-Euless-Bedford.
If faced with a fire incident, professionals recommend taking the following steps to minimize the impact of the damage on your property:
#1 Prioritize Safety
Dealing with fire, no matter how small or big can be devastating. The thought of losing some of your precious belongings can be excruciatingly painful. But there is a magnitude of loss that you cannot recover if you are alive.
Immediately you notice the fire in your home, call the first responder while keeping a distance from the raging fire. Do not attempt to plug or unplug electrical items during that time.
Also, do not attempt to put off the light yourself, especially when doing so exposes you to greater danger. Instead, call the fire department and ensure you do not enter until your fire marshal informs you it is safe.
#2 Ventilate appropriately
Smoke is often trapped in the house even after the fire has been extinguished. Once you are cleared to re-enter your home, ensure you open all the doors, windows, skylights, and more. Doing this helps to get as much of the smoke and other potentially hazardous debris particles trapped in the air released.
#3 Document the damage
Recovering from fire damage can be financially draining. The good news is your homeowner's insurance may cover most, if not all, of the costs needed to repair or replace the damaged property. To back up your claim, you need to take photos of the damage, affected items, and other pieces of evidence showing that the damage was caused by an event or a string of events covered in your homeowner's insurance policy.
#4 Protect unaffected items
It is common to have some items left undamaged after a disaster such as fire damage. The first thing you want to do after ventilating your home is to prevent particles from damaging those items during cleanup. You can move them away from the affected area to keep them safe.
For example, fire restoration specialists advise covering pieces of clean and unaffected furniture with plastic. This helps preserve their integrity and ensure they remain in good condition during and after the fire cleanup and restoration process.
#5 Call fire damage restoration professionals
No matter how small or minor a fire accident may appear, it is safer to call a professional fire damage restoration professional to fully assess the damage and identify potential areas of concern. A professional can restore your property by removing smoke and soot that have gathered around the home and in the air to protect you and your family from inhaling them.
Hiring Fire Restoration Damage Professionals In Bedford
Fire and the accompanying smoke can pose a serious safety risk to you and your property. When faced with fire damage in Bedford, TX it is important to call a professional fire damage restoration service immediately to minimize the damage.
One of the best companies you can trust with your fire damage restoration in Bedford is SERVPRO of Hurst-Euless-Bedford. They are fast, reliable, and efficient. More importantly, they have the right equipment to help you recover fast and correctly.
To set up a service appointment and for more information, please call Team Shaw of SERVPRO of Hurst-Euless-Bedford at (817) 595-0004.