SERVPRO of Hurst-Euless-Bedford outlines 5 steps to handling a water damage emergency
9/23/2022 (Permalink)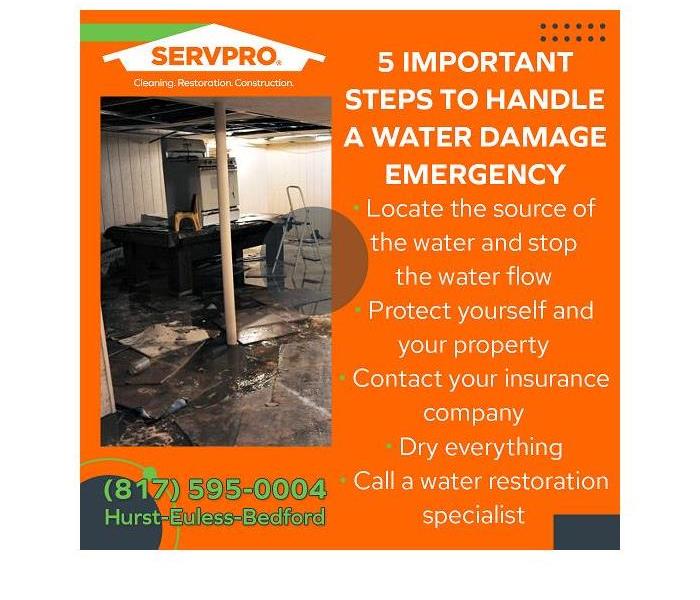 Blog Summary: Are you faced with a water damage emergency? Here's what you should do.
Having a clear plan in place that you can quickly put into action is the golden rule for dealing with any emergency crisis in your home or business.
If you wait too long to take action, a water damage crisis will only get worse. This is why it's important to act quickly to stop the damage.
SERVPRO of Hurst-Euless-Bedford is a Hurst water damage restoration company offering residential and commercial water damage restoration services. Their team has outlined the following steps for handling a water damage emergency.
1. Locate the source of the water and stop the water flow
The first and most crucial action is to stop the water flow. If the water damage was caused by a pipe burst, then you'll need to turn off the mains to cut off water flow to the leaky pipe. If the water was caused by a malfunctioning appliance like a washing machine, then you can turn it off from the bathroom.
However, you obviously won't be able to stop flooding due to rainfall or a sewage backup. Be sure to turn off the electricity and gas when dealing with a flood.
2. Protect yourself and your property
Water damage in all its forms can endanger your well-being and safety due to contaminated water, flood threats, and mold growth. So you must take steps to protect yourself.
If your home is at risk of flooding, leave the area until the authorities say it's safe for you to come back. Wear rubber gloves, water-resistant boots, and protective gear when you return to the property. Save the most valuable things such as valuable documents, paintings, or gadgets.
3. Contact your insurance company
Get in touch with your insurance provider to find out how they handle water removal and flood restoration. Most insurance companies employ specialists who deal with water damage remediation to evaluate the damage and determine the appropriate amount of claims.
Take pictures of the damaged areas and any valuables that were also affected. Keep thorough records and invoices of all water removal and repair expenses.
Dry everything
Once you've documented the damage, then it's time to start the proper water damage restoration. While this may sound simple, it's always best to leave it to a water damage restoration professional, as they have the tools and experience to do it properly.
The restoration process begins with water removal, where any standing water is removed from the house. Next is to dry every affected part of the property's structure to get rid of all moisture. This is vital as any moisture left behind can permeate into the property structure and weaken it, causing mold growth. Once dried, the space will be sterilized and deodorized.
Most water damage restoration companies, including SERVPRO of Hurst-Euless-Bedford, will go further to help you restore affected belongings like rugs, furnishings, and appliances.
5. Call a water restoration specialist
When faced with water damage, the best course of action is to call a water damage restoration professional to help with the restoration process. These experts have industrial machinery including air movers, pumps, and dehumidifiers to remove flood water and associated humidity efficiently.
They also use additional tools like hygrometers, remote cameras, and moisture detectors to ensure the job is done adequately.
Professional water damage restoration is available in Hurst, TX.
Are you faced with a water damage situation? SERVPRO of Hurst-Euless-Bedford can help. They are a full-service water damage restoration company with the right expertise, experience, and equipment to undertake water damage of any size.
The SERVPRO of Hurst-Euless-Bedford team has helped numerous Hurst homeowners and businesses restore their homes and businesses after water damage, and they can help you too.
Contact them today at (817) 595-0004 to get a free quote.