Measures to take before, during, and after a fire occurs
11/29/2021 (Permalink)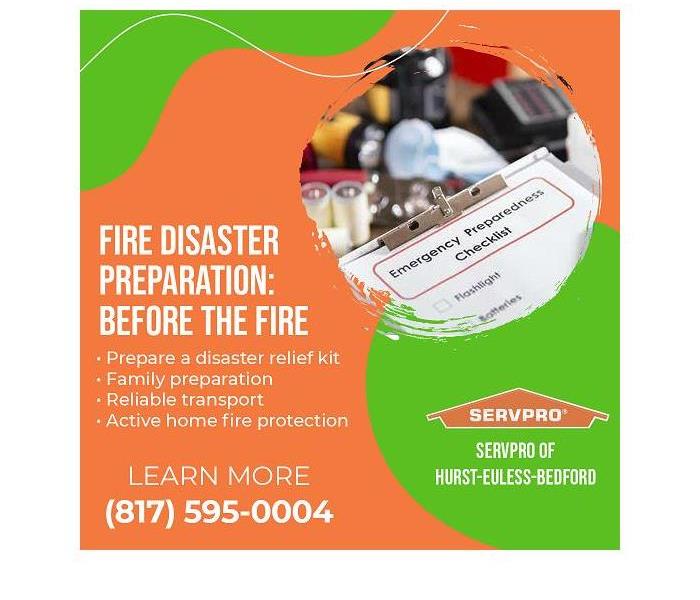 Blog summary: The SERVPRO blog talks about the things homeowners can do to prepare for fire events and the steps they can take during and after the fire has subsided.
Fire damage disaster preparation
As per the National Fire Protection Association, in 2020, local fire departments responded to an estimated 1.4 million fires in the United States. Property damage was estimated at $21.9 billion. Sometimes, fires events such as wildfires are inevitable but homeowners can be prepared to deal with the disaster and protect their loved ones. SERVPRO shares some important precautions that homeowners can follow before, during, and after a fire damage disaster occurs.
Before the fire
Preparation is the first line of defense against a fire event. Here are some of the steps that homeowners can take to ensure they are ready if a fire does occur:
Prepare a disaster relief kit
A "go-to bag" or a disaster relief kit that contains essentials such as extra cash, clothing, footwear, health emergency information, medications, and phone chargers can be prepared in advance for emergencies. Ensure it is a waterproof bag that contains items that are best suited to the family members' needs. Homeowners can look online for more ideas on how to pack a disaster kit.
Family preparation
An evacuation plan is effective when every family member knows where to go and how to get there. For such emergencies, a family meeting place must be assigned far from smoke and fire but close enough for everyone to reach easily and swiftly. Two escape routes must be planned for every room in case of a fire block. These escape routes can be drawn out on a detailed floor plan of the house to make it easy to understand and recall. Everyone's phone number must be saved on everyone else's phone for easy communication. Families can conduct regular fire drills to ensure that everyone knows the plan of action when the need for evacuation emerges for real.
Reliable transport
When a fire affects an entire community or municipality, an escape vehicle must be ready and available. Ensure that the tank is at least half full and the car is serviced and in good condition. Some important items can be stashed in the getaway car in case of emergencies.
Active home fire protection
Smoke detectors can alert the family about a fire in the house and enable timely action. Fire extinguishers are invaluable if the fire is small and contained. Homeowners must invest in one and learn to use it correctly. This equipment must also be inspected and maintained regularly to ensure it is functioning smoothly.
During the fire evacuation
When a fire occurs, it can be chaotic and frightening. Being prepared enables the best decisions that ensure everyone's safety.
1. Communications
During a wildfire, power lines and phones may not work. Family members should try their best to stay in touch with each other at all times. It is important to stay updated on the instructions and safest course of action from officials such as firefighters and police. Listening to emergency updates on news radio and weather stations is helpful when wildfires are affecting more than just one area. Communication is key to receiving and giving the right information so residents should try their best to keep all possible channels open.
Pets
Pets should be well-trained so they can be managed easily during an emergency. Pets should be in a place where they can be easily retrieved and should be able to respond to the owner when called.
Health and safety
Family members should check each other for any injuries once out of the fire zone. Exposure to smoke can cause health effects.
Post evacuation
It is unsafe to return to homes until the authorities have deemed the area and the house structure as safe. Fire damage to the house may require intensive restoration and rebuilding before the house becomes habitable.
A fire can be an overwhelming experience but with good preparation and presence of mind, homeowners can protect themselves and their families during and after the disaster. Once the fire has subsided, homeowners can contact a professional fire damage restoration company such as SERVPRO to help them restore their homes to their original glory.
Why SERVPRO?
SERVPRO uses state-of-the-art equipment to bring the damaged property back to its original state. SERVPRO of Hurst-Euless-Bedford is always updating its fleet and equipment so clients in Hurst, Euless, Bedford, or anywhere else can quickly access the services.
With over 1,700 US and Canadian Franchise locations, SERVPRO is strategically positioned to respond faster to an emergency of any magnitude.
The SERVPRO staff is highly trained in property damage restoration. They receive initial in-house training and constant skill-up-gradation at the corporate training facility and also acquire the regular IICRC-industry certification.
For fire damage restoration services, call SERVPRO® of Hurst-Euless-Bedford today at (817) 595-0004 or e-mail at office@SERVPROheb.com